Poster Abstract Presented at 22nd Annual NATA Symposium on Patient Blood Management, Haemostasis & Thrombosis
Improvement in critical care medicine transfusion after implementation of an organized Patient Blood Management program
Alvaro Visbal, Daniel Mayer, Aharon Sareli, MiRit Wartell Samuels, Sherri Ozawa and Sheryl Reed Memorial Health System, Hollywood, FL, Accumen, Inc., Rivervale, NJ, USA
April 28-30, 2022
Introduction: Patient Blood Management (PBM) programs have been shown to reduce healthcare costs while improving patient outcomes. Results demonstrate that transfusion related decision making improves with active participation in an organized PBM program that incorporates extensive clinical education, evidence-based guidelines, aligned electronic medical record/order entry, and meaningful data and analytics of provider transfusion practice.
Critical Care Medicine providers play an important role in PBM programs. Historically, decisions regarding transfusion in non-hemorrhaging patients were closely connected to simple correction of hemoglobin values and often ordered in a multi-unit fashion. The proportion of red blood cell transfusions ordered as single units can serve as an indication of improved transfusion related decision making. The evidence-based recommendation for non-bleeding patients is a hemoglobin threshold of <7g/dl. The percentage of transfusions that occur as single units, for pre-transfusion hemoglobin of <7g/dl as well as for hemoglobin >8g/dl are therefore important quality markers.
Methods: RBC transfusion ordering patterns were collected from 117 individual hospitals across the US, encompassing data on 1,783 critical care clinicians. Nurse practitioners, physician assistants, and physicians from academic and non-academic centers were included. Adult critical care data from one full baseline year was compared to four Memorial Healthcare (Florida, USA) hospitals (55 licensed providers), measuring transfusions in patients with pre-transfusion hemoglobin levels <7 g/dl, >8 g/dl, and single unit transfusion orders for 12 months after program implementation.
Results: All MHS institutions' critical care providers showed change in these metrics over the first year of program implementation. For patients with pre-transfusion Hb>=8 g/dl, the Memorial group had a decrease of 13%, while the non-Memorial group had an average decrease of 8% in the first year. For single unit transfusion orders, non- Memorial group averaged an increase of 8% in the first year, while the Memorial group had an 17% increase. For patients who had pre-transfusion Hb levels <7g/dl, the non-Memorial averaged a 10% increase in the first year, while the Memorial group had an 17% increase. Improvement in transfusion metrics decreased blood spend by $490K US (acquisition costs only) in the first year.
Conclusion: Implementing a systematic patient blood management program leads to improvement in blood component ordering practices, decreased acquisition costs, and increased patient safety.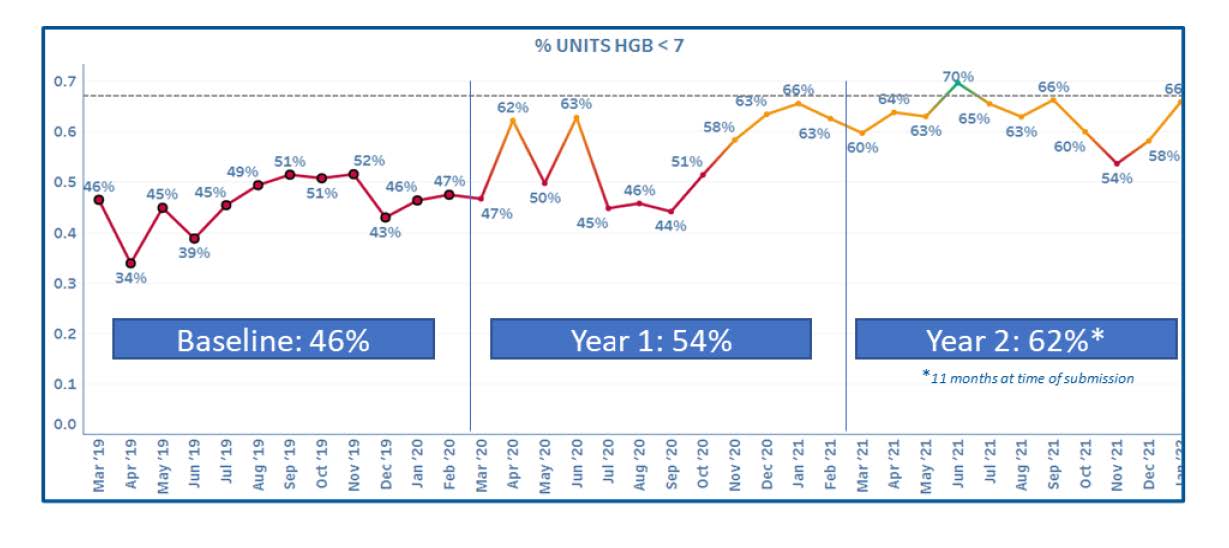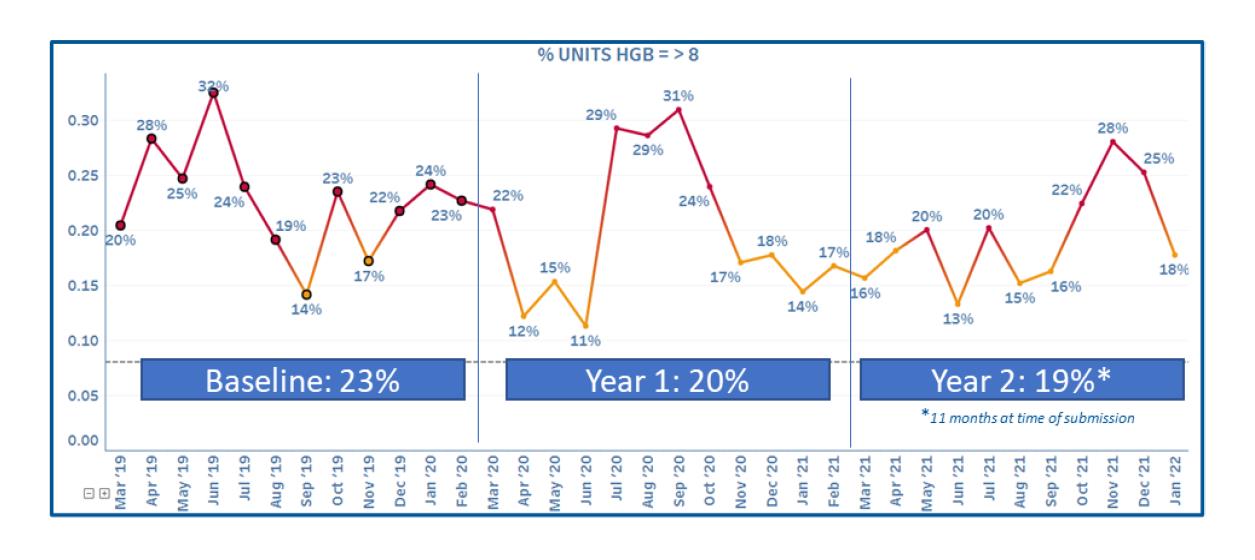 References
1. Cable CA et al. Crit Care Med. 2019;47:1637-44
2. Napolitano L et al. Crit Care Med. 2009;37:3124-57